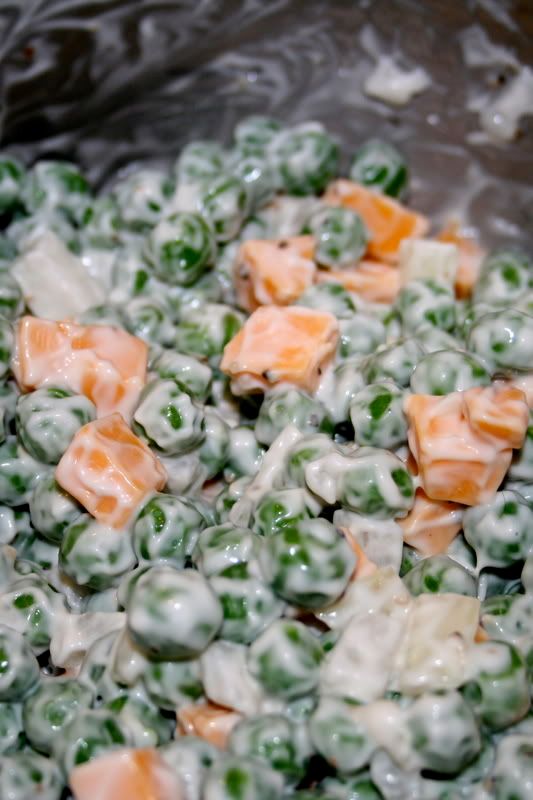 There are dishes that you prepare that are supposed to sit for a while before you eat them so that the flavors "marry." Pea salad is one of those dishes. I haven't made pea salad in almost ten years.
As with most things in my life, there's a story behind that little bit of information. My mom was a terrible cook. She could slaughter a box mix. Really. However, there were a few things that she could fix better than anyone. She could fling a mean hamburger. I still don't know what she did to them, but she made hamburgers better than anyone I know. She was also the queen of fudge-making. I've tried for years to use her recipe and get the same results, and sadly, I fall short. (My sister inherited the crown.) She could also just whip up a marvelous pea salad.
Shortly after she went home to heaven, my family was eating at a buffet and I was at the salad bar. I saw the pea salad and found myself standing in public with tears coursing down my cheeks. I would never have Mom's pea salad again. It sounds like such a little thing, but my heart was truly broken. I couldn't hardly eat anything the rest of the day. Time passed. One day several years later I was again at a buffet (hey, with six kids, you do what you can) and I saw the pea salad. This time, though it was bitter -sweet, I wanted some. I ate it quietly and thought of Mom.
Today, for the first time since before she died, I made pea salad. This time the memories that flooded my heart — memories of a woman who couldn't hardly boil water but could stir up a pea salad to die for — this time the memories made me smile.