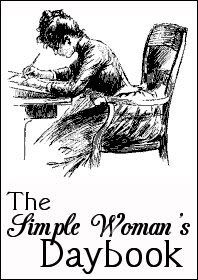 FOR TODAY September 22...


Outside My Window...
It's a beautiful first day of Fall. The trees are whispering hints of what's to come in the red and yellow tinges.
I am thinking...
that I'm finally getting a handle on this semester. Organization is everything.
I am thankful for...
the blessings the Lord heaps upon me daily.
From the kitchen...
Wendy is taking care of dinner tonight.
I am wearing...
my blue denim dress. It's funny because I haven't worn it in weeks and then I wear it on a Monday.
I am creating...
I've been busy doing some mending.
I am going...
to work, maybe to the grocery store.
I am reading...
Early American literature, and some 18th century European literature (same stuff for the whole semester).
I am hoping...
to get some medical tests done this week.
I am hearing...
the hum of the air conditioner.
Around the house...
the house is actually pretty clean.
One of my favorite things...
my family's smiles.
A Few Plans For The Rest Of The Week…
pretty much, school and work, same as last week, same as next week.
Here is picture thought I am sharing..