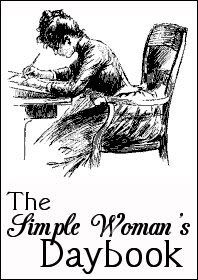 FOR TODAY June 16...


Outside My Window...
a breeze is blowing and there is
blue
sky! The rain is supposed to let up for at least a few days.
I am thinking...
about taking a trip somewhere … anywhere!


I am thankful for...
God's provision. He cares for me.


From the kitchen...
A big pot of pinto beans and fried potatoes with cornbread on the side for dinner!


I am wearing...
my favorite denim dress.


I am creating...
a quilt for my granddaughter.


I am going...
to pick Elisha up from Head Start, and my Hero from work.


I am reading...
a couple of books by Lois Lowry.


I am hoping...
to buy my Hero a chainsaw tomorrow.


I am hearing...
the birds chirping!


Around the house...
I need to do some deep cleaning in the kitchen.


One of my favorite things...
is fresh air! It is cool today and I have the door open.


A Few Plans For The Rest Of The Week:
I need to seriously work on the church's website. I also need to buy some groceries.