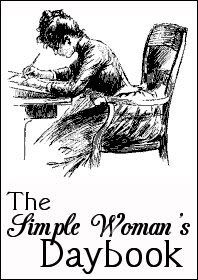 FOR TODAY June 23...


Outside My Window...
there is still beautiful blue sky! The weather couldn't be nicer.
I am thinking...
that I really have a lot to do today!
I am thankful for...
my wonderful husband — my hero. He's just a great guy!
From the kitchen...
it is time to buy groceries!
I am wearing...
a comfy blue dress and my tennis shoes.
I am creating...
a website for the church.
I am going...
nowhere until this evening when I need to go to the grocery store.
I am reading...
stuff about building a website.
I am hoping...
to see my granddaughter soon.
I am hearing...
talk radio.
Around the house...
I need to scrub!
One of my favorite things...
is sweet ice tea! especially when the condensation gathers on the outside of the glass.
A Few Plans For The Rest Of The Week…
I have some sewing to do for myself. I want to work some to get the driveway cleaned up from the rain and do some clearing in the backyard. I have some work I need to do on July's Bible reading schedule for the church.