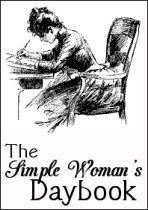 FOR TODAY July 7, 2008...
Outside My Window...
it is cloudy with storms threatening.
I am thinking...
that I need to prepare for my job interview this afternoon.
I am thankful for...
my family. I enjoyed spending time with them over the holiday.
From the kitchen...
Nana's cupboards are bare. I need to take inventory and buy groceries.
I am wearing...
my regular Monday dress, lol! I will be changing clothes in a moment.
I am creating...
I just finished some culottes for myself and I haven't started anything new.
I am going...
on that job interview this afternoon.
I am reading...
I'm between books. I was just scanning the bookshelf last evening looking for something new to read.
I am hoping...
to take my grandson to the museum Friday evening.
I am hearing...
talk radio.
Around the house... I have a few plants I need to get in the ground after the rain stops.


One of my favorite things...
Jelly Belly jellybeans.
A Few Plans For The Rest Of The Week:
This will probably depend upon my interview today.
(Can you tell that one appointment is consuming my mind right now?)