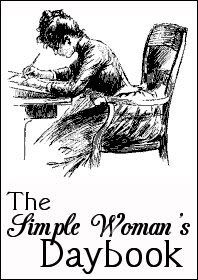 FOR TODAY September 8...


Outside My Window...
It's fixin to rain and it's really cool — the high today is only supposed to be about 63°.
I am thinking...
about the assignments I'm about to work on. I have to answer some questions about the Biblical context of
Salome
and the literary value of some early American writings.
I am thankful for...
technology! I love being able to sit in my recliner and get an education.
From the kitchen...
I haven't decided what we are having for dinner tonight.
I am wearing...
blue culottes and a khaki & red checked shirt.
I am creating...
nothing right now. I'm forming some of the ideas for some writing.
I am going...
just to work.
I am reading...
Early American literature, and some 18th century European literature (same as last week).
I am hoping...
that we hear about my grandson's application to the daycare at the Y.
I am hearing...
Dr. Laura.
Around the house...
the house is actually pretty clean.
One of my favorite things...
gadgets. I am a gadget geek.
A Few Plans For The Rest Of The Week…
pretty much, school and work, same as last week.
Here is picture thought I am sharing..

My granddaughter's smile.