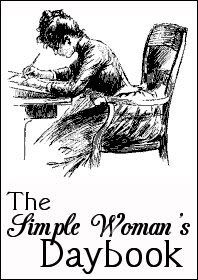 FOR TODAY September 1...


Outside My Window...
The sun is shining. The day is beautiful.
I am thinking...
that it is so nice to have my Hero home today and to have no particular plans for the day.
I am thankful for...
my heating pad. It makes my back feel so much better.
From the kitchen...
right now my Hero is doing my dishes for me. I think we are going to have a big pot of butter beans tonight for dinner.
I am wearing...
oops, I'm still in my pink jammies.
I am creating...
havoc! LOL!
I am going...
as far as I know, I am just staying home today.
I am reading...
Early American literature, and some 18th century European literature.
I am hoping...
that God shows Himself in some situations this week.
I am hearing...
Sprout on television.
Around the house...
we have a few plans for some yard work today.
One of my favorite things...
I think I've said this one before but new socks.
A Few Plans For The Rest Of The Week…
pretty much, school and work.
Here is picture thought I am sharing..

A visitor in my garden.