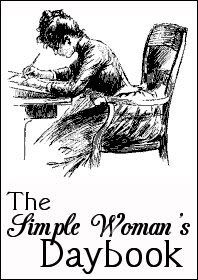 FOR TODAY August 18...


Outside My Window...
we are tying a weather record for 2008! This is our 5th straight day without precipitation. Since January 1, we have not gone longer that 5 days without snow or rain. It looks like we might break the record tomorrow.
I am thinking...
about anything but the phone call I am anticipating.
I am thankful for...
my husband's many skills. He had to re-plumb our bathroom this weekend and got it all done, even learning to sweat pipe. We have no leak now and a wonderful new shower head!
From the kitchen...
tonight we are having chorizo, eggs, and potatoes with cornmeal muffins.
I am wearing...
blue culottes and my t-shirt from our cruise to the Bahamas.
I am creating...
chaos — as usual. This last week I didn't have much time to create, hopefully this next week I can crochet some more.
I am going...
to work this afternnon.
I am reading...
"The Choice" by Nicholas Sparks.
I am hoping...
to hear about my job interview today. I have interviewed for the permanent position that I have been temping for the past six week and I really want the job.
I am hearing...
construction equipment working in the housing development across the street.
Around the house...
I'm hoping to get the office cleaned and organized today. My final semester of college starts next week and I need to be organized in order to juggle home, work and school!
One of my favorite things...
puppy kisses.
A Few Plans For The Rest Of The Week…
I haven't really thought that far ahead. If my financial aid comes in today, I have some online shopping to do.
Here is picture thought I am sharing..
Don't you wish photos came with smell and you could smell the chives?