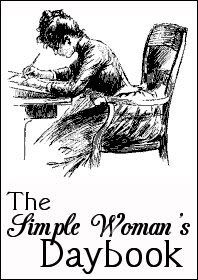 FOR TODAY February 23...

Outside My Window... It's bright and sunny but still cold. (That particular fact is getting old.)

I am thinking... I still need my umph back. In the meantime, I'm trying to fake umph.

I am thankful for... my sweet Hero.

From the kitchen... simply spaghetti for dinner tonight.

I am wearing... my pajamas, still! Yikes!

I am creating... two afghans, one for a baby girl, one for a baby boy.

I am going... to work, that's about it.

I am reading... my Bible, a book on writing memoirs, and a collection of Stephen King's short stories.

I am hoping... to get my umph back.

I am hearing... TV.

Around the house... We are doing a few more fix-up projects and I hope this week to finish the ceiling in my bedroom.

One of my favorite things... newly turned soil in the garden.

A Few Plans For The Rest Of The Week… I'm reworking my schedule so I can get more accomplished.

Here is picture thought I am sharing.