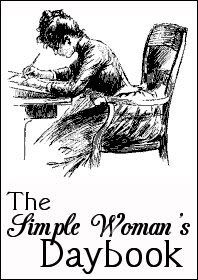 FOR TODAY January 19...

Outside My Window... It's bright and sunny but still cold. The sunshine is glinting off the snow.

I am thinking... about buying a new vacuum cleaner. I don't have a lot of carpet in this house, but I still need a vacuum.

I am thankful for... so many friends and my family.

From the kitchen... I want to make some homemade bread this week with my new Kitchenaid. I also am working on a recipe for Pizza Salad.

I am wearing... my comfy blue and calico denim dress.

I am creating... I am working on the plans for a quilt for my granddaughter.

I am going... out to eat tonight. I'm off working for Martin Luther King Day and it's my birthday!

I am reading... my Bible. I'm waiting on the mailman to deliver a couple of books I ordered from Amazon to help me with the memoir of my mother that I'm writing.

I am hoping... to get some church projects done this week.

I am hearing... the hum of the furnace.

Around the house... I need to do some deep cleaning. (Yikes! This is the same thing I needed to do last week.)

One of my favorite things... wooden furniture.

A Few Plans For The Rest Of The Week… I want to go to JoAnn's to get fabric for the quilt.

Here is picture thought I am sharing.