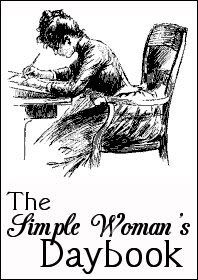 FOR TODAY January 12...

Outside My Window... It's gray and overcast hinting of the impending snow.

I am thinking... that I need to get back into a regular routine. Since I have now graduated from school, it's time to develop a new routine for my life.

I am thankful for... a furnace. It's nice to be warm at the flip of a switch.

From the kitchen... I'm not sure what is for dinner.

I am wearing... my blue dress with tiny white flowers and poka dots.

I am creating... a scarf. I need to finish putting the fringe on it by tomorrow when our high is supposed to be 2.

I am going... to work.

I am reading... my Bible. I've started a series of through the Bible by stories.

I am hoping... that my daughter feels better soon.

I am hearing... a recipe on the Today Show.

Around the house... I need to do some deep cleaning.

One of my favorite things... my heating pad.

A Few Plans For The Rest Of The Week… pretty much, work. I need to clean the church sometime this week.

Here is picture thought I am sharing.