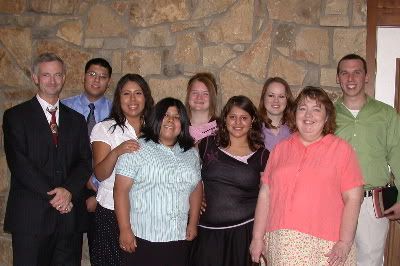 Since I haven't blogged for a while, it's time for an update. I had my doctor's appointment and I'm going to have surgery sometime in October or November. It may sound silly but I'm looking forward to it. I've had endometriosis for 23 years and this should be an end to it!
All else is well with my house. We took a vacation to Texas a few weeks ago to visit my husband's family and attend our home church, Trinity Baptist Church in Arlington. Our other children joined us there and for the first time in almost three years all my children were together. That's us in the picture. The young man in the green shirt is my new son-in-law.
I've started my classes at the University of Illinois Springfield and I have my work cut out for me. I'm a junior working on my BA in English and all my classes are online.
Tomorrow, I will be taking my daughter Marcy to Hyles-Anderson college to begin her freshmen year. My daughter Wendy is already hard at work in her classes towards her nursing degree and hopefully this week, Peggy's books will come and she can start homeschooling her sophomore year in high school.
We're busy I guess but nothing monumental. Truthfully, I like busy because it gives me less time to get in trouble.